The Self-Drive Greek Mythology Trip for Families: Epidaurus, Mycenae, and Olympia Tours
Duration

Three Days

Theme

Group Type
Description
What is included
Why book with us
Are you looking for a stress-free one-of-a-kind road trip with your family? We cannot recommend enough our newly launched "The Self-Drive Tour of Greek Mythology for Families: Epidaurus, Mycenae, and Olympia Tours – 3 Days itinerary".
A self-drive mythology journey that will help you explore the most significant sites in the region of Peloponnese in the best way. Every day will be exciting with a different theme, making the whole experience insightful and memorable!
Start and finish from Athens and visit with your family Epidaurus, Nafplio, Mycenae, and Olympia.
How does it work?
Step 1: Choose your itinerary
Step 2: Pick up the car either from the airport or the center of Athens
Step 3: Download our travel app on your electronic device (either smartphone or tablet) and find the predefined family-friendly self-drive itinerary
Step 4: Enjoy your self-drive vacation with your family
Why choose our organized self-drive multiday tours for your family?
We take care of all the hassles of independent self-drive vacation planning! We book your car and we carefully select family-run guesthouses. And of course, we have designed your family-friendly Greek Mythology driving itinerary day by day – all found in our innovative Travel App.
All information shared is in a clear and simple way for the deepest understanding of Greek history and culture. Our local experts will offer professional support if you need advice or assistance throughout your journey. Also, if you wish, we can arrange for a local guide to wait for you at each stop (at extra cost).
Access to the App
7 days prior to your trip we'll send you a link, through which you'll have full access to the trip's App, where you can find the detailed content of your trip, as well as optional stops, additional activities you can book, restaurant recommendations, audio stories etc.
Car rental* category D for 3 days (including Unlimited Mileage, Third Party Cover, Collision Damage Cover, Vehicle Theft Cover, Airport surcharge, Local Taxes)
2-night accommodation at traditional guesthouses** (4 stars)
Two traditional Greek breakfasts
The customized trip app featuring:

Thematic detailed itinerary & navigation
Enriched content, audio storytelling & advice from a top-rated guide at each location
Optional stops, local tips & points of interest
Suggestions for tours, audio-guided tours & activities
Restaurant recommendations in each area
*The rates are for the car based on 4 people.
** Pricing includes one double room per 2 people, one triple room per 3 people, and one quadruple room per 4 people. In case your group has different requirements, we can customize your trip accordingly.
• "The Self-Drive Tour of Greek Mythology for Families: Epidaurus, Mycenae, and Olympia Tours – 3 Days itinerary" is a fantastic way to experience Greek culture with your family at your own pace and flexibility. Self-drive is a convenient and independent way of traveling.
• We organize a wonderful trip for your family to meet and explore aspects of Greek life in places and ancient sites of incomparable beauty.
• Self-driving provides you with all the freedom and independence of traveling without a tour guide, but at the same time, you don't have to worry about the schedule as everything is at your own pace. In other words, it takes care of everything without taking away the joy of personal choices.
• We provide a full schedule of this 3-day vacation and a range of activities for you and your kids to select from.
• At every stop, you have recommended activities, and everything you need to know is planned for you beforehand.
The Self-Drive Tour of Greek Mythology for Families: Epidaurus, Mycenae, and Olympia Tours - 3 Days itinerary
Day 1 Self Drive Tour for Families: Epidaurus, Nafplio, Mycenae, and Olympia
Day 2 Self Drive Tour for Families: Olympia
Day 3 Self Drive for Families: Forest of the Centaurs, Lagadia village, Dimitsana, and Athens
Day 1 Self Drive Tour for Families: Epidaurus, Nafplio, Mycenae, and Olympia
Your road trip starts from Athens. You will pick a car from an arranged location. Your first stop is the breathtaking Corinth Canal, a narrow man-made canal that turned the Peloponnese peninsula into an island.
Next, you will continue to Epidaurus, the most well-preserved ancient theater of Greece, with its fantastic acoustics.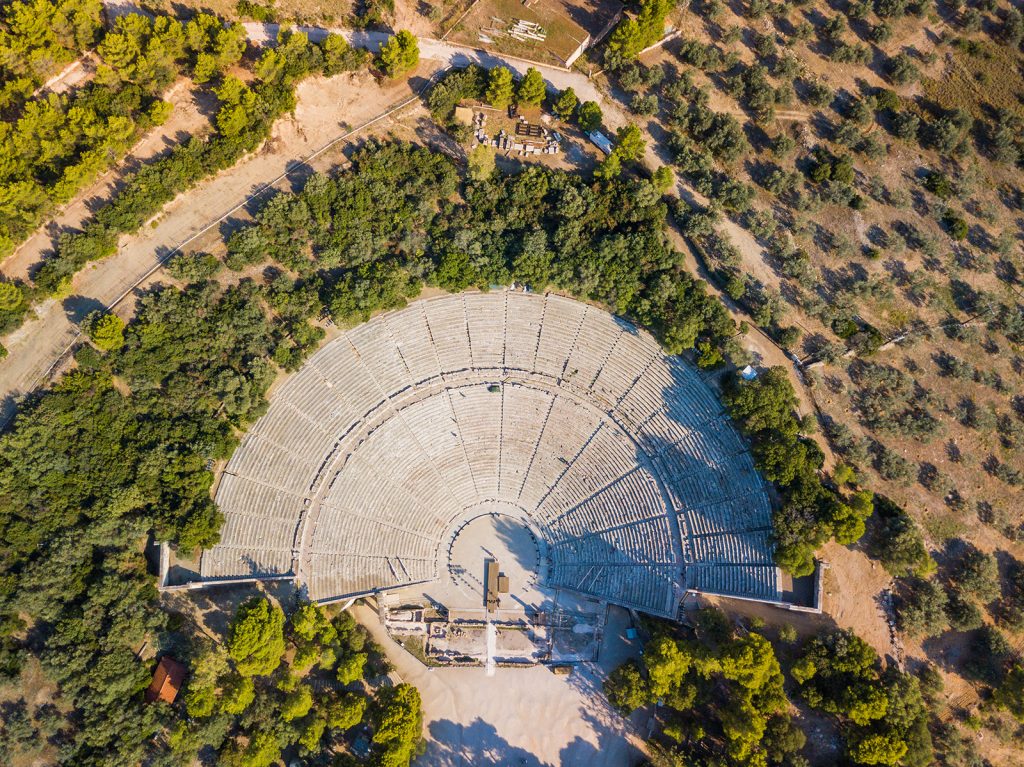 Afterward, you will visit the glorious ancient city of Mycenae, which Homer describes in his epics. Myths and heroes were born there and made Mycenae a great part of Greek history. It is a well-preserved UNESCO World Heritage Site as the capital of one of the oldest civilizations.
Nafplio is the next stop. This romantic small city will leave you speechless with the Venetian buildings and fortifications along with its magical seafront. Nafplio was the first capital of modern Greece before Athens took its place.
You will continue driving through the stunning Peloponnesian countryside, and your first day will end in ancient Olympia. While in Olympia, we encourage you to follow our Travel App recommendations on how to spend your free time there.
Overnight: In Olympia, in a beautiful guest house.
Day 2 Self Drive Tour for Families: Olympia
After a traditional Greek breakfast in the guest house, the second day starts with the drive to the magnificent mountains of Arkadia.
Your first stop will be at the majestic temple of Apollo Epicurius. The temple stands alone on a rocky cliff with a breathtaking view. You can have a stop at the small and beautiful village of Andritsaina to enjoy a delicious lunch.
After lunch, it's time to visit the ancient site and museum of Olympia. The Olympic Games started there and got their name from this magnificent place. Olympia was once considered to be the main athletic, religious, and political center of ancient Greece.
In Olympia, we recommend that you visit a lovely honey farm, where you and your kids will learn everything about beekeeping and bees. Your kids will love this activity!
Overnight: In Olympia, in a lovely, family-run guesthouse.
Day 3 Self Drive for Families: Forest of the Centaurs in the Mythical Peloponnese Mountains
This is a very special day as it is dedicated to the exploration of the central Peloponnese mountains.
Your day starts with a walk in the mythical Forest of the Centaurs, a unique NATURA oak tree forest, one of the rarest of its kind in Europe. You can also opt for a visit to some hidden waterfalls or continue your drive through the numerous traditional villages.
The best one is Lagadia village, perched over a gorge with a wonderful view and famous for its beautiful stone-built houses.
The next stop is Dimitsana, a delightful medieval village, built like a choir of buildings across two hills at the beginning of the Lousios Gorge. The village is a popular winter destination for Greeks but still unknown to foreign visitors.
Here you enjoy a typical lunch with delicacies of the South, visit an open-air waterpower museum, and observe local life before you return to Athens and complete your journey in Southern Greece.
Best season to visit
All
Nearby
Find out the where to go and what to do in Greece with the family. Book with us for amazing family memories.
Relevant Articles
Get inspired by our top ideas for vacation in Greece. Discover our blog full of ideas, insights about Greek destinations, reviews for kid friendly activities, hotels, beaches, museums and so much more!