Small Group – Percy Jackson Mythology for Families 3-day Trip
Duration

Three Days

Theme

Group Type
Description
What is included
Why book with us
If your kids love the Percy Jackson books and films, this is the ideal family trip to Greece. Our Small Group Percy Jackson Mythology for Families 3-day Trip combines the highlights of mainland Greece, Greek mythology and the places your kids know from Percy Jackson.
During this trip, your family will be able to visit the most important sites such as the Acropolis, the Temple of Poseidon, Delphi, and Epidaurus, in the company of a licensed guide who is also a fan of Percy Jackson. Weaving together places and myths from Greek mythology with stories from the Percy Jackson books, the 3-day trip itinerary is specially designed to provide a unique Percy Jackson experience tailored to families.
Guided family tours to the Acropolis, the Acropolis Museum, Delphi, Epidaurus and Nafplion
An English speaking licensed tour family-friendly guide fascinated by the Percy Jackson books
All transfers
The Percy Jackson-inspired small group tours have proven to be a great way for families to experience Greece. Kids who know and love the Percy Jackson books have an extra dimension added to their Greek vacation, and adults appreciate the engaging way our guides present the various archaeological sites and activities. We have hand-picked family-friendly guides trained in the stories and places from the Percy Jackson books. But even if some family members have never heard of Percy Jackson, these tours are great for families who are looking for a unique, authentic, meaningful and fun way to explore Greece.
Kids Love Greece is the only tour company offering small group Percy Jackson-inspired mythology tours in Greece.
The benefits of a small group tour are:

Participants are families only
You'll get to explore Greece with other like-minded families interested in finding out more about Greece and Greek mythology
Our small group tours are far different from the larger packaged vacation you see on offer. The maximum number of people on our small-private Percy Jackson tours will be 3-4 families (15 people maximum)
Kids and parents benefit from the social atmosphere of a small group tour. Your family will get to know like-minded and curious families, and kids will interact with peers, share experiences and make new friends
Tours are priced lower compared to our bespoke private family tours in Greece
Percy Jackson Mythology Trip: Day 1-3 Small Group Itinerary
Day 1: Highlights of Athens, and the Temple of Poseidon in Sounion
Day 2: Visit the Oracle at Delphi
Day 3: Corinth Canal, Epidaurus and Nafplion
Small Group Percy Jackson Mythology for families trip dates
Day 1
This 3-day family trip starts and ends in Athens, meaning that you do not have to swap hotels each night. Transfers will be arranged for you, and we will provide fully licensed guides to accompany you at each archaeological site and point of interest. We can also book accommodation for you (optional).
Morning: Acropolis and Acropolis Museum (4 hours)
In the morning, your Percy Jackson trained family guide will take you to the famous sacred hill of the Acropolis, "the most ancient temples to the gods, in the middle of Athens…" as Percy Jackson says.
Explaining what the Acropolis was for and weaving together tales from Greek mythology, your guide will show you the Parthenon, the sanctuary of the Goddess Athena. You will be astonished by the magnificent views and learn that the temple was dedicated to Athena, the city's patron. The various myths and stories related to the Acropolis and narrated by our experienced guide will keep your kids captivated throughout your tour at the Acropolis. If you are a fan of Percy Jackson, you will also see the spot where Athena (the mother of Annabeth) and Poseidon (the father of Percy) fought!
Your family will also be using a virtual time traveling gadget that will take you back in time. Through technology, you will find out what the ancient monuments of the Acropolis used to look like in ancient Greece.
Next, you will have a chance to admire the findings of the Acropolis in the Acropolis Museum, one of the most famous and most important museums in Europe and the world.  Your licensed family guide will keep the kids engaged by the storytelling and interactive games while telling you more about the exhibits.
Late afternoon: Athens Riviera and Temple of Poseidon (4 1/2 hours)
In the late afternoon, a talented tour facilitator (not a licensed tour guide) who will be there to add fun to your afternoon, will take you to visit the magnificent Temple of Poseidon at Cape Sounion and watch the majestic sunset! If your kids are Percy Jackson fans, they will know that Poseidon was the father of Percy Jackson & the Greek God of the Sea. Did you know that in mythology, this temple was also the place where Aegeus threw himself into the sea when he saw the black sails of the ship, and believed that his son Theseus – who had gone to Knossos to fight the Minotaur – was dead? For this reason, the sea here was called the Aegean Sea!
The drive to Cape Sounion is approximately 1 1/2 hours, however, before visiting the Temple of Poseidon for the sunset, there will be time for a swim at the thermal lake of Vouliagmeni (summertime) or visit Stavros Niarchos Foundation Cultural Center (autumn/winter), a buzzing urban escape in Athens.
Day 2
All day: Delphi archaeological site and museum (2 1/2 hours)
Our guide will meet you at your hotel and you will be taken by luxury vehicle to the UNESCO World Heritage Site of Delphi, located 2 1/2 hours away from Athens. During the road trip, our guide will go into some history and legends that surround this mysterious complex.
Known as the Navel of the World, Delphi became the most important religious center and sanctuary in the ancient Greek World. During your tour, we'll reveal who the Oracle was and offer different theories behind the religious rites practiced here. We'll also talk about the connections between the Percy Jackson books and the Oracle at Delphi.
The origins of the Oracle of Delphi are shown in Percy Jackson's Greek Gods. Originally, it was a spring that whispered the future to those who listen. The Oracle of Delphi appeared when Percy Jackson was told by Chiron to get a prophecy, so he could go on a quest. If you are a Percy Jackson fan, you may remember the old Oracle in the book The Last Olympian: " I foresee the future. I cannot change it" 
You will also visit the ancient theatre, an ancient stadium and the museum. Our engaging guide presents the site and museum in a way that not only explains what you are seeing but also fires up the imagination. You'll easily be able to picture yourself as a pilgrim making their way to Delphi, or even as an athlete taking part in the games here.
With a stop-off at a local village for lunch, awesome viewing points, and countless photo opportunities, the second day of our Percy Jackson trip is one you'll never forget.
Day 3
Morning: Epidaurus (2 hours)
In the morning we will visit the UNESCO world heritage site of Epidaurus. This is a large archaeological complex with two main features. The first of these is the ancient theatre. The second is the Asklepios Sanctuary which Percy Jackson fans will remember as the God of healing from Rick Riordan's 'The Blood of Olympus'.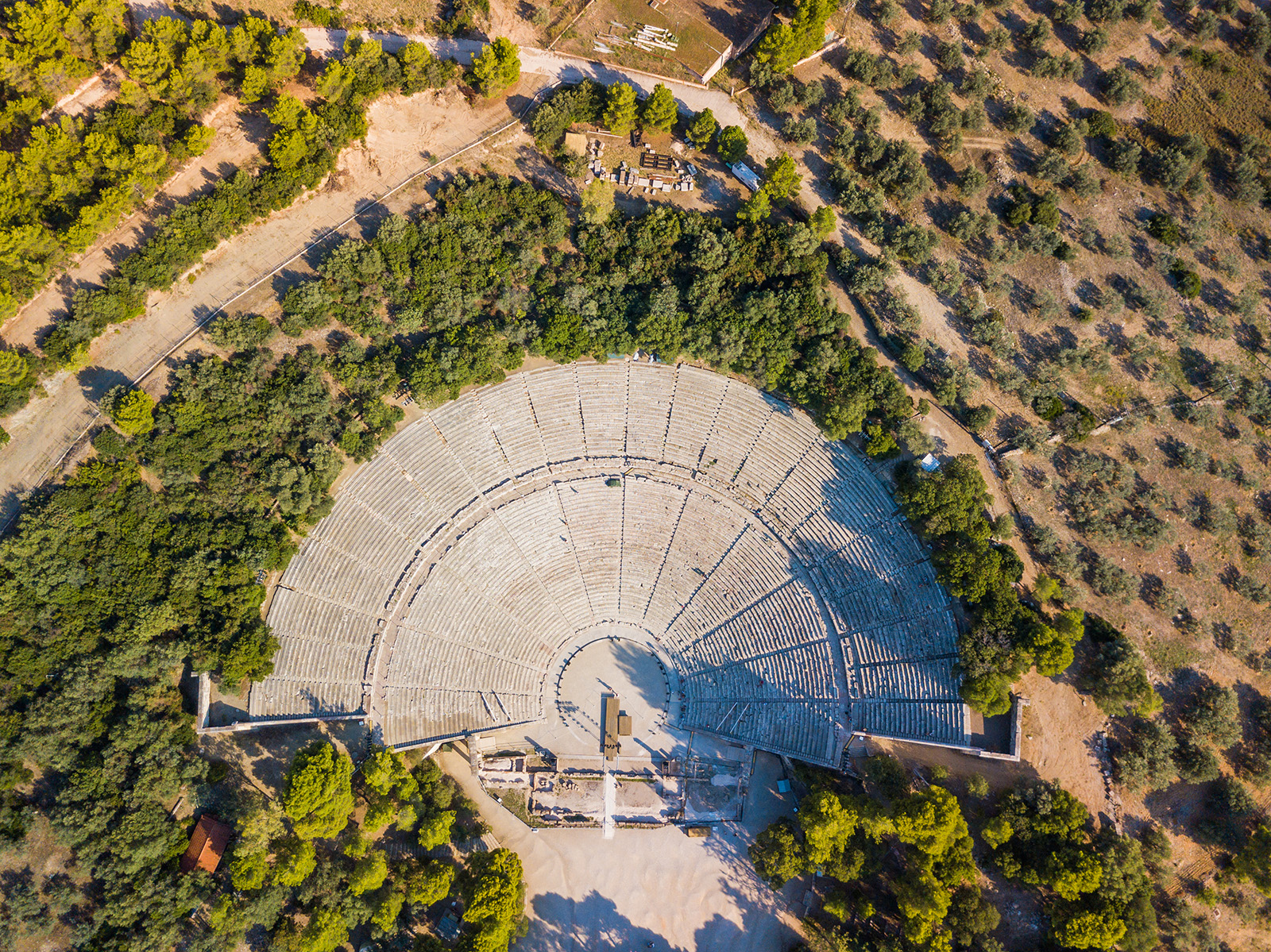 Our family guide will show you around the site, and demonstrate the acoustics in the theatre. They are so perfect, even to this day people are not quite sure how the ancient Greeks designed and built the theatre. When somebody is standing on the center stage, it is possible to hear them whispering even if you are sitting in the very high seats above. Your kids will love testing this in the theatre at Epidaurus!
Afternoon: Nafplion (2 hours)
Our second destination of the day is the charming town of Nafplion. Often described as one of the most beautiful places in Greece, historic Nafplion was also Greece's first capital. Nafplion is a cute and charming port city with narrow streets, Venetian houses, lots of shops and interesting restaurants to sit outside and enjoy a delicious meal.
Your guide will take you on a 1-hour walking tour and show you some hidden gems, the main attractions, and take you to the best ice cream shop in town.
When it is time for lunch, your guide can suggest local taverns and restaurants. After lunch (1 hour), we will drive back to Athens where you be taken back to your hotel.
Starting trip dates
Kindly note that all the dates mentioned below are the starting trip dates in 2022, meaning that your arrival flight should have already taken place one or more days before. Our small group Percy Jackson Trips has a capacity of a maximum of 3 families per trip. Availability is extremely limited so please get in touch with us as soon as possible.
March 2022
26 March 2022 – 28 March 2022
April 2022
12 April 2022 – 14 April 2022 – FULL
29 April 2022 – 01 May 2022
May 2022
13 May 2022 – 15 May 2022
20 May 2022 – 22 May 2022
29 May 2022 – 31 May 2022
June 2022
03 June 2022 – 05 June 2022
09 June 2022 – 11 June 2022
16 June 2022 – 18 June 2022
23 June 2022 – 25 June 2022
27 June 2022 – 29 June 2022
July 2022
01 July 2022 – 03 July 2022
09 July 2022 – 11 July 2022
14 July 2022 – 16 July 2022
21 July 2022 – 23 July 2022
28 July 2022 – 30 July 2022
August 2022
11 August 2022 – 13 August 2022
18 August 2022 – 20 August 2022
25 August 2022 – 27 August 2022
September 2022
03 September 2022 – 05 September 2022
October 2022
08 October 2022 – 10 October 2022
21 October 2022 – 23 October 2022
Book our Percy Jackson Mythology for families 3-day trip for an unforgettable and fun Percy Jackson experience in Greece!
Disclaimer: The Percy Jackson tour to Greece and its promotion is not sponsored by Rick Riordan or Disney*Hyperion and they specifically disclaim any legal obligations or responsibilities for the tour.
Best season to visit
All
Nearby
Find out the where to go and what to do in Greece with the family. Book with us for amazing family memories.
Relevant Articles
Get inspired by our top ideas for vacation in Greece. Discover our blog full of ideas, insights about Greek destinations, reviews for kid friendly activities, hotels, beaches, museums and so much more!